The advantages of home flower delivery
Home flower delivery has become increasingly popular in recent years, offering a practical and elegant solution to express emotions, celebrate special occasions and brighten up days. In this article, we will explore the many benefits of home flower delivery and why it should be a consideration for anyone looking to offer a thoughtful gesture to their loved ones.
1. Ease and Comfort
Home flower delivery eliminates the need to visit a physical flower shop, saving time and effort. With just a few clicks, you can choose from a variety of beautiful bouquets and have them delivered straight to your recipient's door. No need to worry about opening hours or travel anymore.
2. Pleasant Surprise
Receiving an unexpected bouquet of flowers is a wonderful experience. This adds a touch of surprise and joy to the person's day, creating a memorable moment that lasts long after delivery. Home delivery allows you to create those special moments without revealing your plans in advance.
3. Varied Choice
The flower delivery services we offer give you an endless variety of options. From romantic roses to colorful and exotic arrangements, you can choose the bouquet that best suits the occasion and the recipient's personality. This allows you to personalize your gesture in a meaningful way.
4. Special Occasions
Whether it's Valentine's Day, a birthday, Mother's Day or any other special occasion, flower delivery adds a touch of elegance to the celebration. Flowers convey emotions and wishes in a unique way, making them a perfect gift to mark these important moments.
5. Expressing Emotions
Flowers have the power to express emotions that words struggle to convey. Whether it's love, gratitude, sympathy or admiration, a well-chosen bouquet can say what you feel deeply. Home delivery makes this expression of feelings easier than ever.
6. Durable and Meaningful
Unlike other ephemeral gifts, flowers can last several days or even a week if cared for properly. Every time your recipient sees the bouquet, they will remember your thoughtful gesture, creating a lasting bond between you.
7. Saving Time
Modern life is often hectic, leaving little time for little touches. Online flower delivery makes it possible to send a thoughtful gift in minutes, making it an ideal option for those with a busy schedule.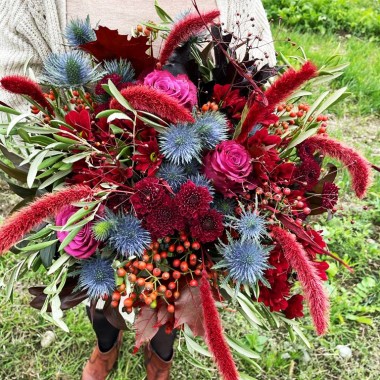 Flower Delivery FAQs
Bouvard Fleurs makes sure to only offer you fresh flowers. Most of the time, when possible, the flowers are fresh and from our local producers.
In addition to varied bouquets, we also offer other little touches such as: chocolate, candles or even sparkling wine.
If you want to send flowers to one of your loved ones, simply browse our collection of bouquets. Then you select the date you want to be delivered. You can of course add a little personalized message. We take care of the rest!