Order a bouquet of flowers or floral arrangement for 

condolence, bereavement and funerals and have it delivered to your home Monday through Saturday
Every bereavement is unique, just like the person who has left you. When someone dies, everyone experiences this final separation in a very personal way. The duration and intensity of grief also varies from one individual to another, and this painful stage of life can take time to fade. Our role is to accompany you as best we can, with gentleness and understanding, in this ordeal that is the loss of a loved one, a friend, a colleague, a comrade or an acquaintance.
While it is sometimes difficult to express our feelings or support in words, sending flowers is a good way to express our condolences. This message of love or respect can be expressed in many ways, as each type of flower has its own meaning.
Wreath, heart, wreath, cross, bouquet, basket, Bouvard fleurs offers you the delivery of floral pieces on the whole territory of Geneva. According to your wish, a fast delivery is ensured in person or on the place of your choice (cemetery, funeral service or crematorium, home of the deceased, etc...). It is with patience, compassion and authenticity that we receive you in our workshops, in order to elaborate together, the floral piece that will best accompany the deceased.
Discover the mourning photo gallery
The symbolism of mourning flowers
For example, for a mourning bouquet. You can choose flowers that remind you of a good memory, or of the deceased's favorite color.
It is also possible to choose flowers according to their symbolic representation (white lilies for purity, gladioli for strength of character, chrysanthemums for immortality). In most cases, this bouquet is intended for the family in mourning or the loved ones of a deceased person. It is an intimate gesture to pay tribute. The condolence bouquet brings comfort and sympathy to the family. It is delivered to the home of the deceased, rather than to the funeral home. Generally, its shape is round and peaceful, made with full and generous flowers, which rest the eyes. The colors are up to the individual, but often pastel shades are more appropriate. For more spontaneity and elegance, choose a slender bouquet with long stems. You can also choose a beautiful mix of pink, symbol of eternal love. Of course, we can offer you a message and a matching vase with the bouquet.
The importance of choosing a mourning bouquet
Some traditions are not lost. For thousands of years and for many cultures, flowers have played an essential role in mourning and funeral customs.
The floral arrangement offered is significant of the feelings towards the deceased. That is why you need to choose the right funeral flowers , those that will deliver the right message. In this way, you contribute to the success of the ceremony and its positive impact on the grieving process.
Wreaths of flowers create a warm atmosphere that adds to the dignity of the funeral and consolation. They can be sent not only to the funeral service, but also to the home of the bereaved (in the canton of Geneva), or to the church.
If you are not an expert in symbolism or floral art, don't panic. Bouvard fleurs, your florist for funerals in Geneva, we will support you during this delicate moment. Many varieties of flowers are available to express your condolences to the family of the deceased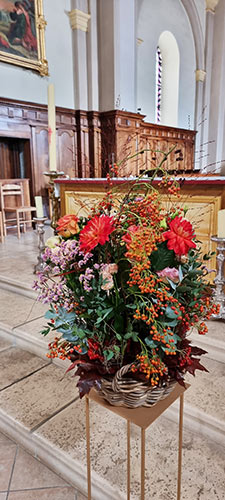 Popular sympathy flowers and meanings
For funeral or cremation ceremonies, traditional mourning flowers include:
Lilies

often white for funerals, lilies signify innocence and purity;

Violets

violets: Violets symbolize a death that has come too soon. It is very common to see violets on the grave or coffin of a young person;

Gladioli

gladioli: Gladioli can represent the strength of character of the deceased. They are also used as a sympathy flower for the family of the deceased, their sword shape reminding of elevation;

Chrysanthemums

chrysanthemums: In the fall, the shimmering colors of chrysanthemums can be requested for All Saints Day. Others prefer white. The golden flower evokes sadness and regret;

Roses

red for love and respect, pink for esteem and grace. You can also choose white roses, denoting innocence and youth. Roses are universal and generally highly valued;

Orchids

you can send an orchid as a sympathy flower, to signify your undying love for the deceased;

Hydrangeas

hydrangeas: Ideal for permanent support, the hydrangea plant will bloom for years outdoors;

Carnations

carnations:

These flowers are a great idea for a multi-day funeral service

.

White carnations symbolize purity, while roses convey memorial thoughts;

Hyacinths

hyacinths

are fragrant flowers

that are very appropriate for a funeral setting. Purple hyacinths express grief and regret
Your florist accompanies you with custom-made arrangements
Discover our personalized creations for funerals, funerals, funeral services or the family of the deceased.
Pay tribute with sympathy flowers
We welcome you at Bouvard fleurs in our store in Perly-Certoux - GE. All our floral creations are at your disposal or can be delivered in the canton of Geneva.
You can also compose your own bouquet of flowers in self-service. Our flowers are cultivated in healthy and ideal conditions, guaranteeing an accomplished freshness. Many possibilities are offered to you to show your support to the bereaved.
An experienced team for your custom-made arrangements
Our decades of experience allow us to provide you with a quality service. A team that listens to you, with its expertise and inventiveness, accompanies you in the creation of your personalized floral arrangements.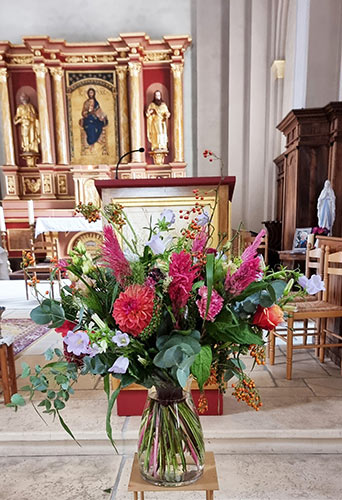 Funeral Flowers
While sympathy flowers can be sent anywhere, funeral flowers are intended for the funeral home. They are fairly large and formal floral arrangements, intended for commemoration and celebration. Funeral flowers are a reflection of the deceased's feelings , personality and legacy.
Funeral Wreaths
Larger funeral wreaths are intended to pay tribute to the entire family. They should reflect the spiritual and religious beliefs of the deceased, while respecting the family's aspirations and the context of the bereavement.
The wreath is not a modern invention. Born of deep traditions, it conveys a message that is more than a thousand years old. Since prehistoric times, as in pre-Columbian and Egyptian civilizations, the crown represents the circle of the sun visible during eclipses (black moon on a white ring). As early as the 6th century B.C., the crown appeared on painted vases in ancient Greece, as an attribute reserved for the gods and cult ceremonies. It then became for men a symbol of triumph and victory, of merit as well as of high military achievements. Christianity took over this habit of crowning the dead. But the Christian message makes it a symbol of eternity and immortality, a comfort for the family, but also a testimony of respect and love towards the deceased. For maximum effect, we prefer a wreath made of flowers, opulent and generous. For a more modern wreath, a wreath composed of greenery (greenery veneer, exotic foliage) and a more stylized floral accent is preferred.
Flower sprays
Funeral bouquets are very popular when it comes to paying tribute or expressing condolences. Much larger than bouquets, funeral sprays are often intended to be placed at the foot of the casket. Like wreaths or cushions, they are large enough to hold a personalized ribbon.
A teardrop-shaped spray is chosen for a restful and poetic look, while a diamond-shaped spray is more masculine and geometric. Because of its elongated shape, the casket cover is ideally placed on the casket during the ceremony. This type of floral arrangement is usually accompanied by a personalized message of love on a ribbon. Our experienced team of florists is available to advise you and consider your needs and desires. We will make sure to send the wreath and casket cover directly to the funeral home or church.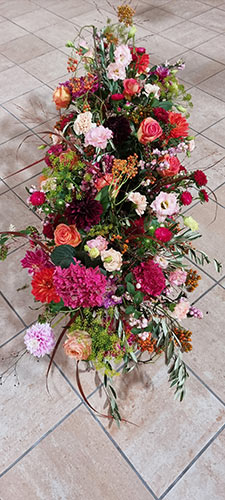 Casket cover
The casket cover is ideal for placing on the casket during the ceremony. A personalized message of love on a ribbon is usually added to this type of floral arrangement. Our experienced team is at your disposal to advise you and consider your needs or desires
Casket fronts
A casket front isa linear piece in height and very natural. It is most often made of cut flowers but can also be made of plants.
Hearts and other shapes
Hearts and other symbolicshapes can also be beautiful proof of affection and comfort. Because of its shape, the heart inspires tenderness and softness. It also conveys emotions and a universal message. It is currently the most popular mourning piece after the crown. Nowadays, we have many new supports to be able to offer you a greater diversity of creations. Full heart, asymmetrical, curved, on a tripod... If the person is atheist, prefer to send your tributes via a heart-shaped mourning piece or any other symbol. Heart-shaped floral pieces convey love and caring during the time of mourning.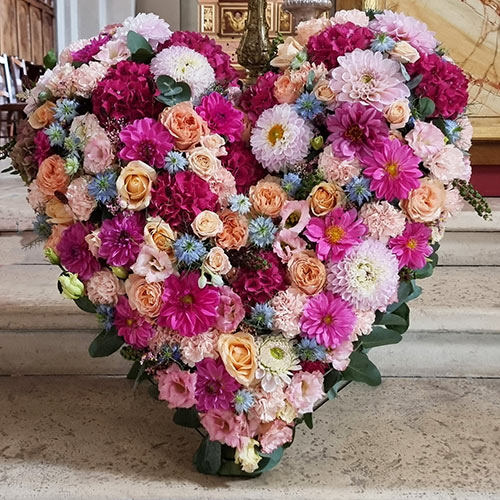 The Cousin
The cousin, symbolizing eternal rest, can also be a good alternative for smaller budgets, or for clients without religious convictions. This restful shape is intended to be placed on the ground at the foot of the casket.
The Latin cross
The Latin cross, symbol of the Christian faith, remains a must for religious families and is always appreciated. Many flowers are used for its realization, one or two colors according to the preferences of the bereaved family.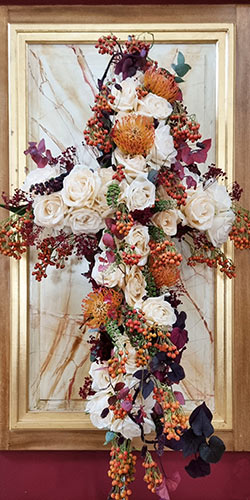 Urn decorations
The decoration of urns, although a minority, is becoming more and more popular. It must be said that the custom of cremating the dead is extremely recent in our Judeo-Christian culture. In the Catholic religion, this practice is still not very widespread, due to its association with the popular imagination of the flames of hell. In Switzerland, the number of cremations increases every year. The decoration of urns is now a regular item in our store. It does not replace the casket top, as this is used for the church ceremony. A few days later, the family of the deceased organizes another ceremony, which is most often done in privacy. The relatives accompany the burial or the columbarium of the urn. It is for this occasion that our florists make a decoration. The floral decoration of an urn can be made of a plant accent or become an imposing creation and very generous in flowers. It can be made directly on the urn or worked around it, like a wreath.
With a ribbon printer, Bouvard Fleurs is able to make all the inscriptions of your choice. The role of the ribbon is to sign the gift, to send a message. By its dedication, it accentuates the emotion and leads to contemplation. It is also a symbol of bonding, and brings peace of mind.
Our grave care service
Our store also offers a grave maintenance service, whatever the season. Visiting the grave of a loved one is a Christian tradition. This act is much more practiced by Catholics than by Protestants. The many Christian feasts that punctuate the seasons are an opportunity for families and loved ones to gather around the graves. Depending on the wishes of each person, the budget and the size of the grave, our team carries out planting, maintenance and decorations to measure.
Mourning flowers in other countries and cultures
In Catholic regions, it is common to give flowers on the first day of the death. The flowers should be of good durability so that they can last until the ceremony. For Protestants, it is more common to donate flowers for the burial.
Depending on the region, the burial often takes place before the ceremony, which means that the ceremony takes place without flowers. This means that flowers are not delivered to the family's home. With the changes in fashion, it is also more and more frequent to organize moments of recollection or funeral ceremonies outside of common places.
In Muslim countries, the deceased are buried according to the laws of Islam, facing Mecca. Flowers are not part of the funeral rites in this religion.
While the conduct of Jewish funerals and the rituals vary according to custom and the various communities around the world, the ceremony is generally simple. There are no flowers or wreaths. Burial is mandatory and must take place within 24 hours of death.
In Buddhism, flowers are present as gifts, to accompany prayers and ritual texts. Simple flowers (corolla) are preferred, without water.
Among Hindus, flower offerings are made during public ceremonies. They are usually colored flower heads (orange tagette, red carnation), strung on a support. It is also customary to provide flowers to "decorate" the deceased.
Photo gallery of floral arrangements and decorations for a final tribute ceremony