From producer to supplier
It all began in 1961. Alain Bouvard built his first greenhouse in Plan-les-Ouates. He specializes in growing roses and becomes a supplier of Migros Geneva. At the end of the 80's, to compensate for the lack of roses in the country, Alain Bouvard called upon producers in Morocco, then all over the world. The company grew and became a supplier to various florists and stores in Geneva and Vaud. In 2013, a store for private customers was opened in the company's premises. Since then, experienced and creative florists are at your disposal to realize your customized creations.
Flowers from all over the world
We work with local and international products. During the summer season, we support local production: lilacs, sunflowers, wallflowers, dahlias, etc. are produced in Geneva. In addition, we source internationally to offer you quality flowers all year round. Roses are produced in Ecuador and the Netherlands. The exotic flowers come from Colombia, Mauritius, or Morocco.
The arrivals are daily, so the freshness of our flowers is unparalleled.
Our store is located in the premises of a flower wholesaler, so you avoid an intermediary, and enjoy a large choice of fresh flowers at a price defying all competition.
It is possible for you to come and buy flowers in bulk in order to make your own creations.
Florists create for you
Our florists welcome you during the summer:
Monday from 7am to 4pm non-stop
Tuesday to Friday from 7am to 6pm non-stop
Saturday morning from 7am to 12pm.
We accompany you for all your events: birth, baptism, wedding, mourning, reception, or simply for the pleasure of offering. We also make room and table decorations for all occasions
We take your orders and appointments by phone at +41 22 771 48 43. You can also order bouquets and arrangements directly from our online store. Orders can be picked up in our workshop in Perly-Certoux or delivered by La Poste in Geneva and throughout Switzerland
Flower subscriptions
A few flowers are enough to brighten up an office, a waiting room, or a dull day. With a weekly, monthly or bi-monthly subscription, we will come and bloom your home according to your tastes and desires. Our deliverers come to your place of work or your home to drop off a flower arrangement in a vase on loan. This one will be replaced regularly. So, no need to worry about ordering flowers. You will see them evolve according to the seasons, declined in as many colors and forms as nature offers us.
Companies / Institutions: have your offices decorated with flowers at the frequency you wish, and according to your budget. We also deliver bouquets for birthdays, anniversaries or retirements.
Individuals : please your loved ones with a pretty bouquet, a composition, or a plant, delivered regularly to their home.
We thank our partners
Perly town hall : compositions for various occasions
Chancy town hall: bouquet delivered every week to decorate the reception area
Fiduciaire Roulin : bouquets delivered every week to the offices
EMS Les Franchises: bouquets delivered weekly for the entrance hall, birthday bouquets for the residents, and bereavement arrangements
EMS Les lauriers : bouquets delivered weekly for the lobby, birthday bouquets for the residents
EMS Le Vallon: bulk order of flowers for a floral workshop
Aurore Duval
At Bouvard Fleurs since October 2012
Following her training as a florist in 2004 in Eyzin-le-Pinet, Aurore worked for ten years, including two years during her training, with Pascal OUGIER and his team in his store l'Bocati in Reignier. Already at that time, she used to come and help out at Bouvard Fleurs during the summer vacations. In 2012, she had the idea to set up a store in the company's premises in order to meet the demand of individuals. Since then, she welcomes you with passion, surrounded by her team.
Eager for new challenges, Aurore specializes in weddings and Bouvard Fleurs becomes the official florist of the Geneva Wedding Show in the Bâtiment des Forces Motrices - BFM in 2014. With a boundless imagination, she is happy to create your wildest decorations for this unique day. Eager to share her passion, she launched floral art classes in our workshops in 2018. Today at the head of a team of seven people, she is delighted to make you discover her real Ali-Baba cave.
Aurore - Responsible for the store, weddings, bereavement and floral art classes
Emma Laederach
At Bouvard Fleurs since September 2015
Emma first trained as an illustrator at the Geneva School of Decorative Arts (now the Centre de Formation Professionnelle Arts Appliqués) in 2012. She graduated from the Centre de Formation Professionnelle Nature et Environnement de Lullier in 2015, and followed her training at Meylan Fleurs in Lausanne, as well as at Laure Fleurs et Fleuriot in Geneva. Once she obtained her CFC, Héloïse asked her to join the Bouvard Fleurs team and has been working there since 2015.
Full of imagination and endowed with a great sensitivity, she is the one who concocts the magnificent bouquets that we offer you on the online store. With her pencils and her knowledge of the latest trends, she imagines the decor of the boutique according to the seasons and the events. Attentive and invested for her customers, she accompanies you to find the best way to show your love, friendship, recognition or a last tribute.
Emma - Responsible for sales, bereavement and online store
Pauline Winkelmann
At Bouvard Fleurs since October 2018
Holder of a florist BP obtained in Eyzin-Pinet in 2017, Pauline followed her training at Le Jardin de Marie in Seyssel, then at Azur Fleurs in Divonne-les- Bains. She was then hired by Pascal OUGIER at l'Bocati, then at NM Fleurs et Jardins in Artemare. At the end of 2018, she offers her services at Bouvard Fleurs and is immediately hired.
Lively and dynamic, Pauline welcomes you in our store and is at your disposal to realize the bouquet of your choice. Responsible for self-service products 24/24h, she concocts daily bouquets and compositions of fresh flowers or stabilized flowers to consume without moderation.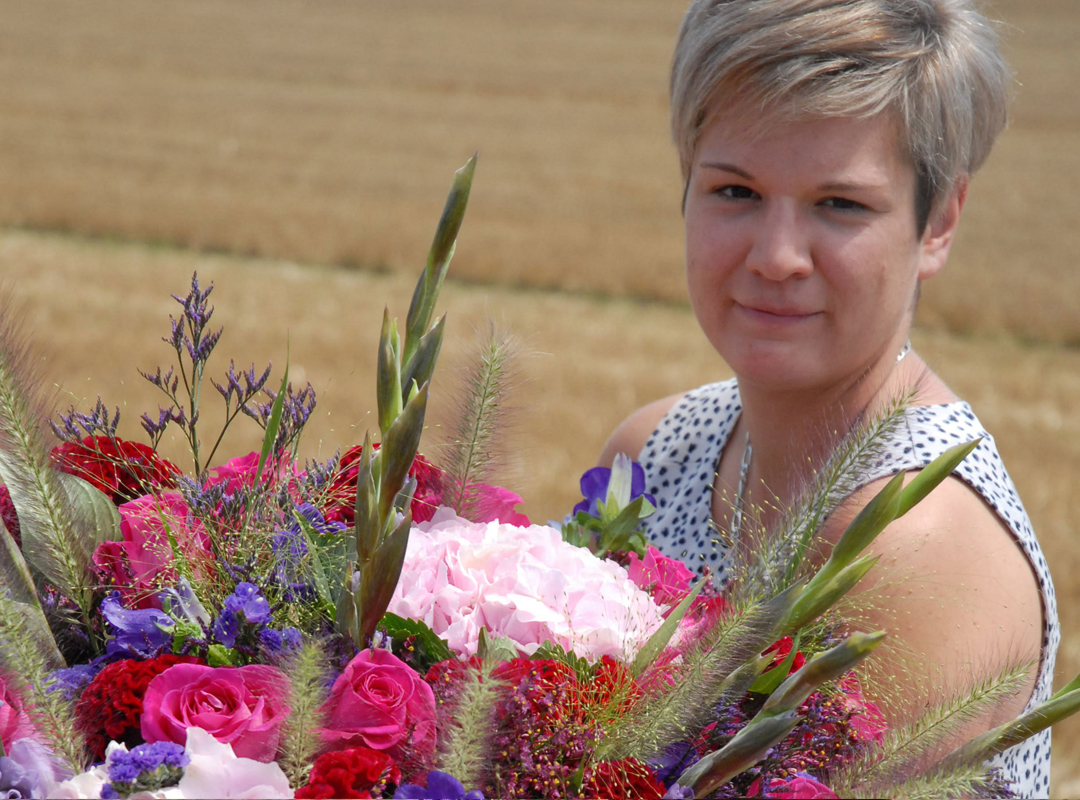 Pauline - Responsible for the production and maintenance of the self-service 24/24h
Virginie Burdin
At Bouvard Fleurs since August 2021
Virginie has been in charge of a boutique for nearly 20 years. She joined Bouvard Fleurs with her know-how and experience. Her autonomy allows her to accompany customers in their choices, to advise them as well as possible and to realize their projects whatever it is
Her passion for her work leads her to be available for her clients. She likes to receive people in a pleasant and neat environment. Every day, she prepares bouquets and floral arrangements ready to go.
For weddings, mourning, Virginie will know, thanks to her calm and determination, how to meet all your expectations.
A fan of "nothing is serious", she takes life on the cool side and makes this good mood shine through in all her creations.
Estelle De Siebenthal
At Bouvard Fleurs since July 2021
At first, Estelle wanted to work with animals but it was during an information session at the school of Lullier that she discovered, by chance, the profession of florist. She followed her training there from 2013 to 2016 and obtained her CFC. Then after working for 1 year at the florist of Carouge and almost 3 years at Fleuriot, she decided to continue the adventure with the team of Bouvard fleurs, in which she will show you her passion for nature filled with its incredible and varied plants, according to the changes of season.
She admits to having a penchant for anything out of the ordinary and puts her creativity and originality at your service. With her calm and discretion, she knows how to best accompany you in your choices and her know-how is at your service.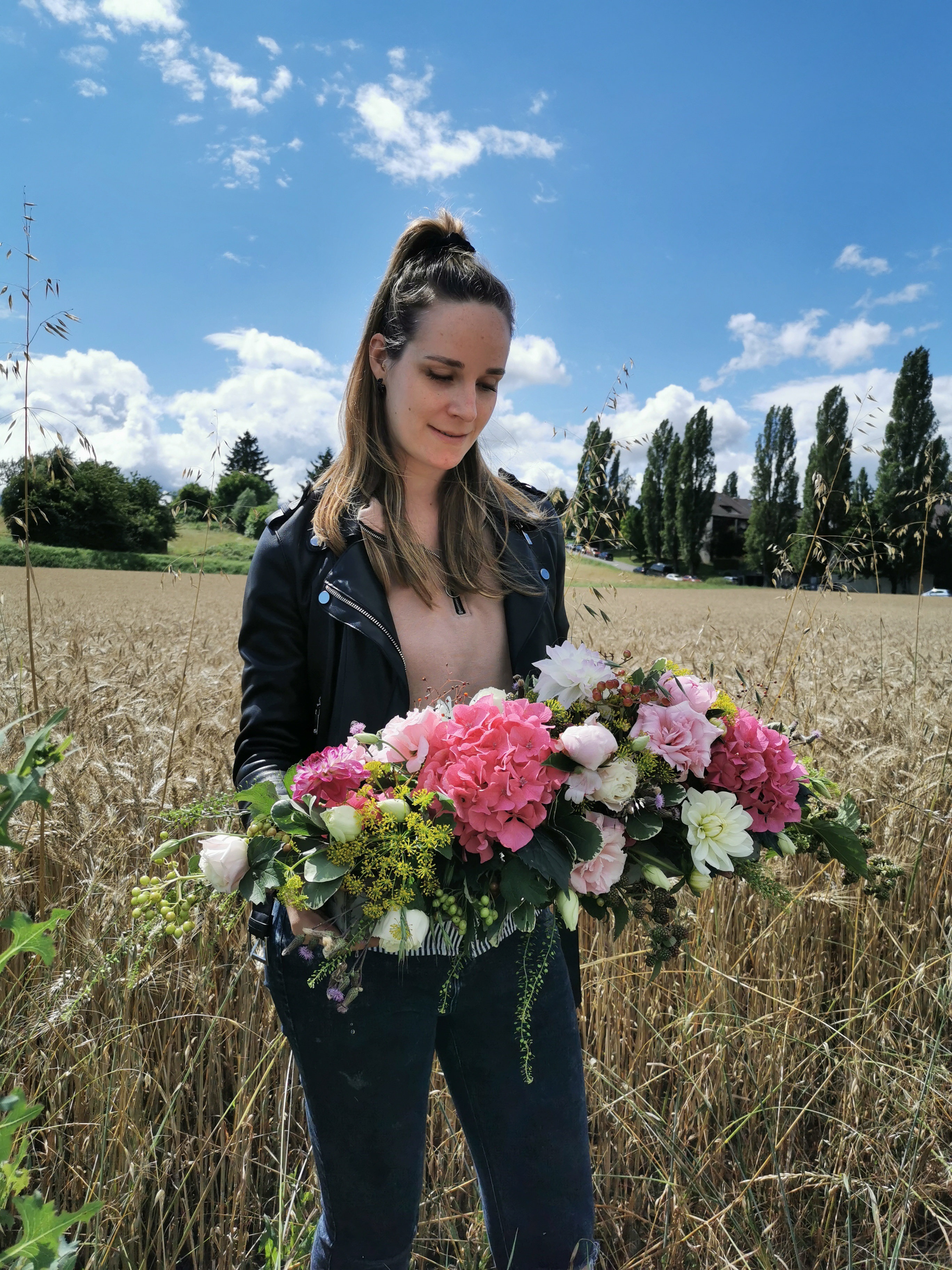 Estelle - Florist