Floral subscription for companies 
Whether you want to decorate your offices so that your employees feel at home or to welcome your customers or patients in the best way possible, your florist Bouvard Fleurs offers floral subscriptions specially designed for companies and establishments. Our most beautiful floral creations are delivered and installed on your premises at the pace you choose.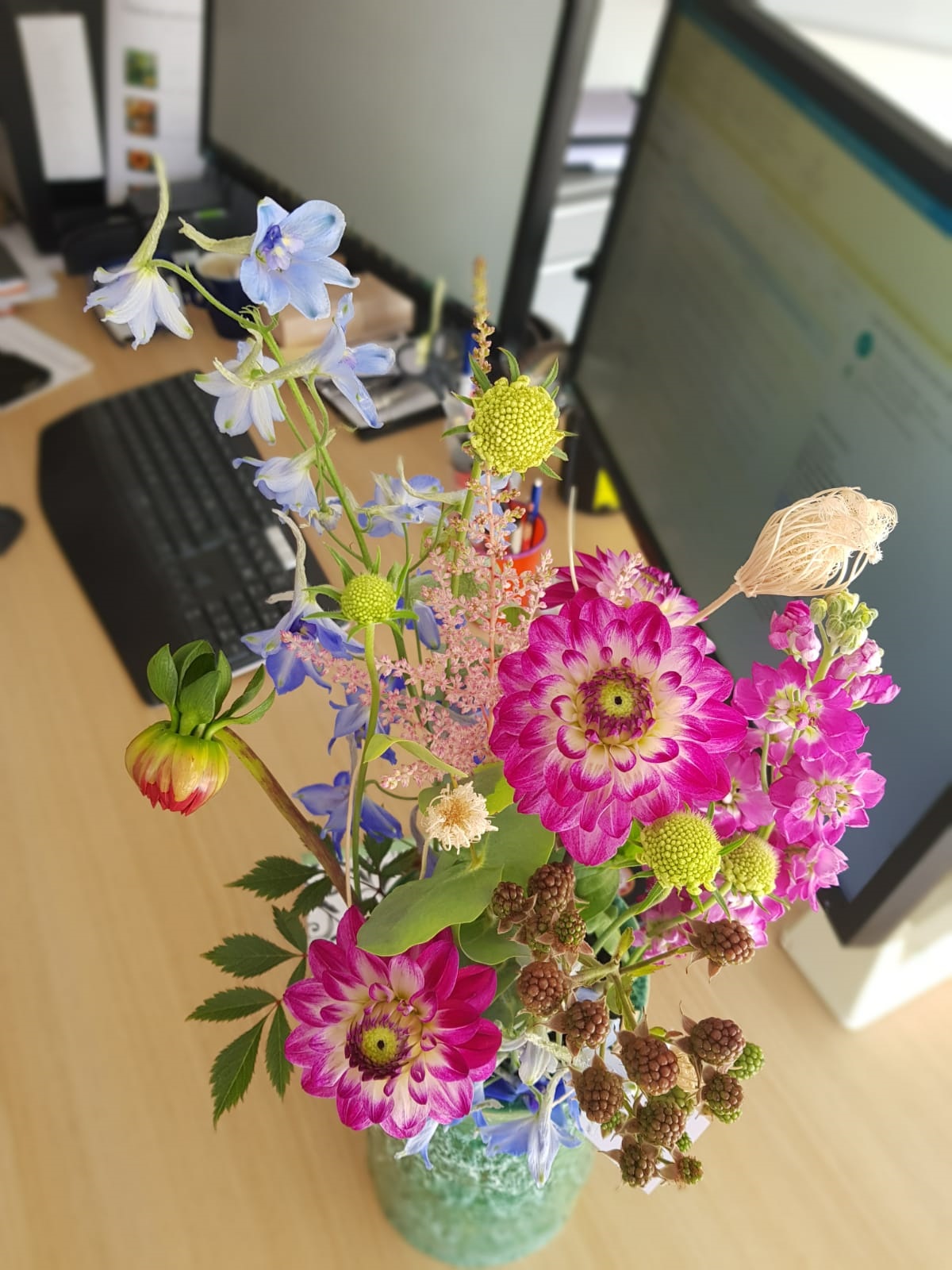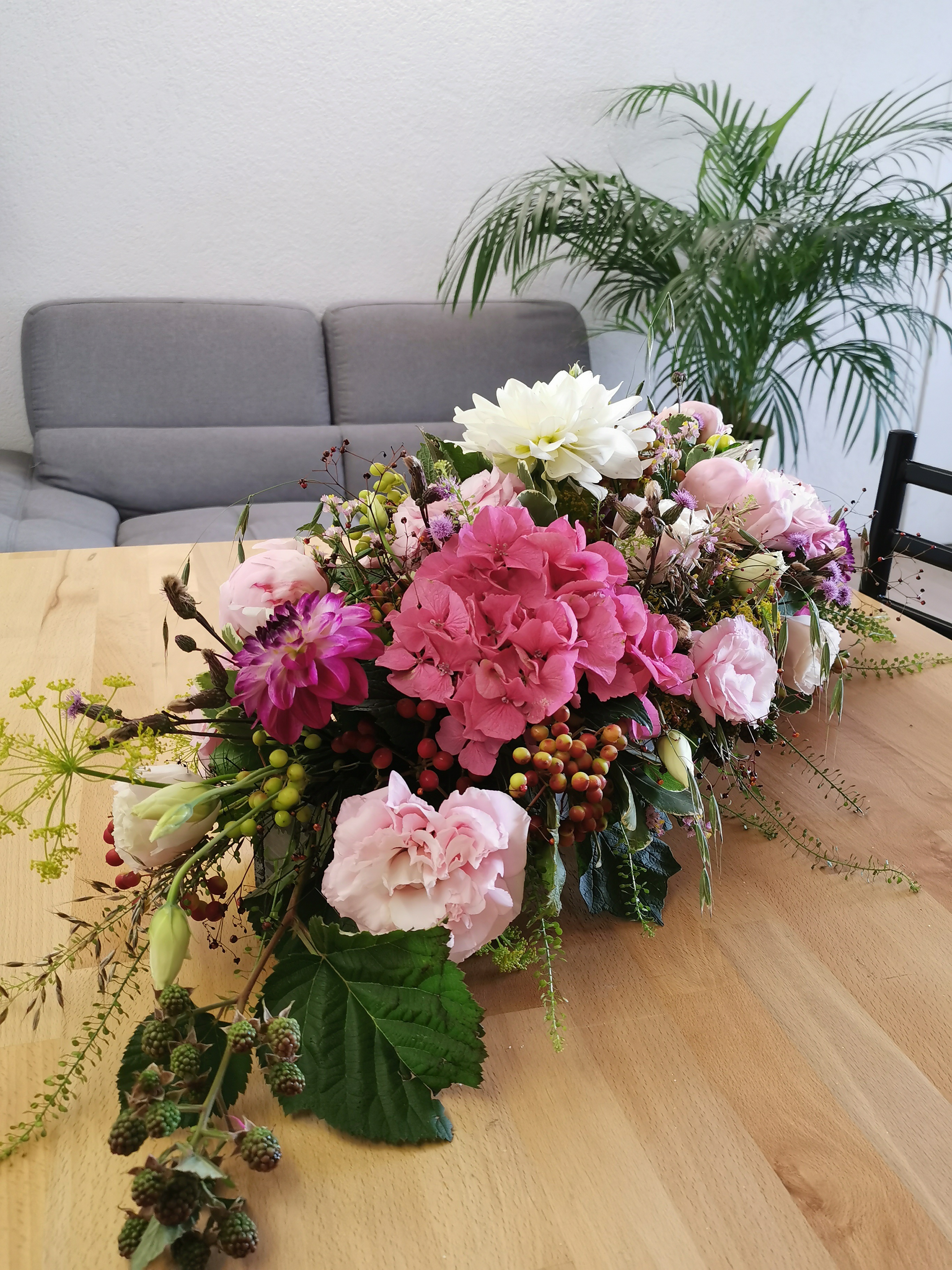 Why a floral subscription for companies ?
With a corporate floral subscription, your premises are always in bloom. At regular intervals, you receive the floral arrangements you have chosen directly in your establishment. Your employees will enjoy a cheerful and fulfilling work environment. Likewise, your customers will appreciate the soothing virtues of the plants and flowers scattered throughout your premises, creating a modern and natural decor.
When should you use a floral subscription for companies?
Beautify your premises and brighten up your waiting rooms or windows with fresh flowers that are renewed regularly. The floral subscription allows you to receive floral compositions adapted to the style and environment of your company. You can also receive plants for specific events (birthdays, anniversaries, retirements...) or offer your employees tailor-made floral art activities for an original Team Building.
For flowered premises all year long, we provide bouquets of flowers and floral arrangements to all commercial structures:
Companies ;
Cantonal and communal administrations (offices, floral parks, communal parks);
Hospitals;
The homes ;
Private clinics;
Medical practices;
Showrooms;
Theaters;
Business centers;
Stores;
Wellness and beauty centers;
Hairdressing salons;
Thermal baths;
Coworking spaces;
Hotels (reception hall, common rooms, rooms, conference rooms);
Restaurants (dining rooms, rental rooms, terraces, etc.).
Thus, you can use our services, whatever the activity of your establishment.
What are the advantages of the floral subscription for companies?
The floral subscription for companies allows you to permanently plant your work and reception areas for the well-being of your employees and your customers. Enjoying a flowery environment at work creates a warm atmosphere and brings harmony and softness in your premises. Employees are relaxed, confident and have a better morale. By offering them an atmosphere where nature is present, your employees are more motivated and productive.
In addition, flowers in a business show the customer a well-groomed appearance and a propensity for hospitality and aesthetics.
Using a floral subscription allows you to
To receive fresh flowers all year round;
To benefit from a diversity of plants in your premises;
To take advantage of a floral decoration that evolves with the seasons;
To have original, varied and personalized floral compositions, elaborated by floral artists;
To have continuously flowered work and reception areas;
To be free of regular plant orders: everything is programmed in advance;
To avoid, for you and your employees, trips to the florist. You can thus concentrate on your core business, while enjoying a constantly renewed plant decoration.
Bouvard Fleurs offer for companies
[Note for the integration: photo: decoration-florale-entreprise.jpg; alt attribute: Decoration of a waiting room with a floral composition as part of the floral subscription for companies by Bouvard Fleurs; caption: Make your waiting rooms pleasant and zen thanks to the floral subscription for companies by Bouvard Fleurs]
Bouvard Fleurs invites you to discover its floral subscriptions especially dedicated to companies and establishments. Our offer is custom-made to better adapt to the style, the particularities and the atmosphere of your premises. We deliver our most beautiful floral arrangements to your offices, at the pace you want.
Who is Bouvard Fleurs?
Bouvard Fleurs, your Swiss florist for more than 50 years, offers you to receive its magnificent floral creations in your company's premises. These are elaborated by our floral artists from fresh flowers with bright colors. We buy from local and international producers who provide us with quality plants that last a long time.
In addition to arriving directly at your location, our floral arrangements can also be seen in our store in Perly-Certoux (Geneva) and on our website. We also offer weekly floral art classes to allow you and your employees to learn the techniques of floral creations. You will be able to master on the fingertips the elaboration of floral compositions and the care of the plants.
What are the Bouvard Fleurs floral subscriptions for companies?
Whether you wish to adorn your premises with majestic plants or discreet bouquets of flowers, we offer several floral subscription formulas. You can choose how often you want to receive your floral arrangements: monthly, bi-monthly or weekly.
Subscriptions adapted to the needs of each establishment
Totally customized, Bouvard Fleurs' floral subscription for companies is adapted to the constraints and wishes of each establishment. Thus, according to your preferences, you can customize your formula from A to Z by choosing :
A longer or shorter subscription period;
The rhythm of reception of your bouquets;
The type of floral arrangements and their shape;
The size of the floral arrangements;
A selection of fresh or dried flowers;
The variety of plants desired;
The number of plants you wish to receive at each period;
The time and date of delivery.
Depending on what you prefer for your company, we can deliver ready-made or personalized floral arrangements. You can also delegate to our teams the regular maintenance of your plants (change of water, container, cutting, etc.)
Moreover, you have the possibility to suspend your subscription at any time (with a one-month notice), especially during the periods when your offices are closed. You also have the possibility to terminate it when you wish (with a one month notice).
What services are included in the Bouvard Fleurs floral subscription for companies ?
Bouvard Fleurs puts its long experience at your disposal to offer you a quality floral subscription. Your florist's offer may include (depending on the options chosen):
The delivery of unique and renewed plants;
The loan and replacement of containers and vases;
The installation of floral arrangements in your work spaces;
Reduced rates compared to the price of plants purchased individually in our store;
Removal of your old bouquets or floral arrangements and their containers;
Personalized floral art classes (on request - billed separately);
Monthly payment for simplicity;
Cancellation of the subscription when you wish with a one month notice.
How to subscribe to Bouvard Fleurs' floral subscription for companies ?
Joining Bouvard Fleurs' floral subscription for companies is simple: you fill in a standard document, noting a start and end date. This document stipulates the general conditions, the services included, the duties and obligations of Bouvard Fleurs, as well as those of the customer.
What are the rates for Bouvard Fleurs' corporate floral subscriptions?
Each subscription is unique and the price depends on several factors:
Size and environment of the premises (humidity, sunlight, temperature, etc.);
Access to the spaces;
Frequency of maintenance;
Etc.
Depending on the frequency and expense, sliding scale rates can be offered. We deliver subscriptions for a minimum of 30 fr. per month.
Are you a private individual looking for greenery for your home or to please a loved one? Visit our page dedicated to floral subscriptions for individuals!